History
Don Edmunds was an excellent driver in the 1950´s and earned "Rookie of the Year" honors in the 1957 Indianapolis 500. He is also extremely well known for his open-wheel race car design and fabrication. Don was among the first to "mass produce" short track race cars, Midgets, Super Modifieds, and Sprint Cars, and to inventory spare replacement parts for each type.
This #54 Super Modified is the prototype Don Edmunds AUTORESEARCH Super Modified as seen on the July 1966 cover of Hot Rod Magazine. While much of the car had to be replaced, Don Edmunds was consulted and the original plans and parts were used. This #54 sports what is believed to be the only all aluminum body which was also used for making the molds for the fiber glass bodied cars that followed. It is completed with the original 45 year old paint job as seen in the 1966 photo shoot. The Chassis Number, mounted on the dash, is CBSM-1, which means it is the first of literally hundreds of Super Modifieds built by Edmunds AUTORESEARCH to these specs.
This beautiful restoration project was started by Billy Wilkerson. After his passing, it was completed by his friend, "Buzz" Shoemaker.
Just For Fun
How Fast Can You Build This Car?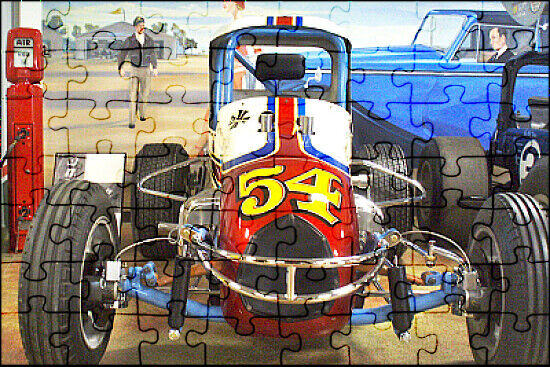 1966 Edmunds Super Modified
Year Built: 1996
Vehicle Type: Edmunds Super Modified
Built By: Don Edmunds (AUTORESEARCH)
Suspension: Cross Springs Front and Rear
Engine: Blair´s Speed Shop, Chevrolet V-8, 327 cubic inch, Hilborn Fuel Injection, Methanol Fuel, Hunt Magneto, Schneider Cam
Owner: Woodland Family Collection