History
Very possibly, this race car, in conjunction with the owner/driver, Bill Vukovich, Sr., was the most famous and most written about combination in post WWII short track racing in America. Vukovich purchased the car from Fred Gearhart in 1941, painted it bright red and named it "Old Ironsides." There was no racing in the USA until after the end of WW II in 1945.
Vukovich was ready. Racing mostly on the west coast, Billy raced in front of crowds of well over 40,000 at venues such as the Rose Bowl in Pasadena and the Coliseum in Los Angeles, as well as numerous short tracks which allowed him to race 7 or 8 times per week. The combo won the United Racing Association (URA) championships in both 1946 and 1947 even though this 2 cylinder Drake powered car raced against the flathead V-8 Fords and often against the dual overhead cam 4 cylinder Offenhauser power plants that Dale Drake also helped design and manufacture. It is our understanding that this car, with Bill Vukovich at the wheel, and with the help of his mechanic brother Mike, won the equivalent of approximately $900,000 in 2009 prize money dollar value.
In 1948 Bill purchased a newer car and this 1937 version was relegated to a backup position although it was still used in 1950 when Bill won the American Automobile Association (AAA), national midget championship. Bill Vulkovich Sr. last raced midgets in 1951 as he had set his sights on the Indianapolis 500 which he nearly won in 1952, did win in both 1953 and 1954, and died while leading the Indy 500 in 1955.
"Old Ironsides" eventually found its' way back to Mike Vukovich, who along with his son-in-law, Frank Prieto, restored it back to this original condition.
Just For Fun
How fast can you build this car?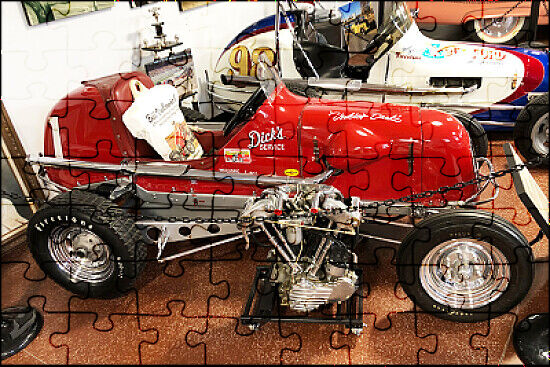 1937 Midget Race Car
Year Built: 1937
Vehicle Type Midget Race Car
Built By: Fred Gearhart
Suspension: Cross Spring Front and Rear (Buggy Spring)
Engine: Drake Harley Davidson Water Cooled 89 cubic inch V-Twin, gasoline fuel
Owner: WOODLAND Auto Display