History
The Jaguar designation, Mark V, is unclear as Jaguar did not offer a Mark I through Mark IV. Jaguar had previously built a "saloon" sedan, which was given Mark IV designation after the Mark V had made its debut. The Mark V was produced from 1949 through 1951. However, it was debuted at the London Motor Show along with the famous Jaguar XK-120 sports car in 1948.
This was among the first Post WWII design cars to be produced in Europe although it carried over many of the pre war design features. The Mark V could be purchased as either a 4 door hard top "Saloon", Sedan or a 2 door "Drop Head" Coupe version. Both were designed as 4 passenger vehicles. A total of only 1675 of these cars were produced over the course of the three years.
Many of the features incorporated into the Jaguar Mark V are considered "classic" by today's standards. The large chrome vertical grill and large headlights resemble those of the Rolls Royce and Bentley cars of the period. The use of "fender skirts" to streamline the look of the body was unusual at the time. Also, a bit unusual were the "Suicide Doors" which were used on the Mark V's.
The interiors were extremely plush as they featured an abundance of polished wood trim and luxurious leather seats and side panels.
The Jaguar Mark V was capable of a top speed of 90 mph although one of Jaguar's test engineers made the comment that "the thrill of the moment did not encourage repeating the event."
Just For Fun
How Fast Can You Build This Car?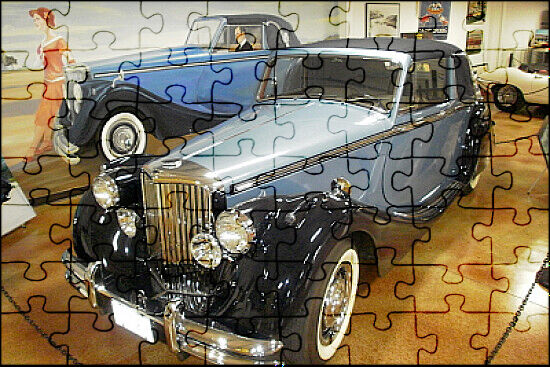 1951 Jaguar Mark V
Year Built: 1951
Vehicle Type: Jaguar Mark
Built By: Jaguar
Suspension: Front - Independent Double A-arm with Torsion Bars Rear-Leaf Spring
Engine: 213 cubic inch OHV in-line 6 cylinder, dual carburetors, 125 bhp
Owner: Woodland Family Collection